Origin of the Hettler Model of Wellness

THINK PEACE
ACT PEACE
Welcome to hettler.com,
the Home Page of Bill Hettler, MD

Remember, family comes first!

The Matriarch of the Hettler Clan is Peg (Hettler) Cooney


Pages for Wisconsin Health Service Directors
Linda, John & Bill make the cover of:

Worksite Health
BALANCE the Six Dimensions of your life.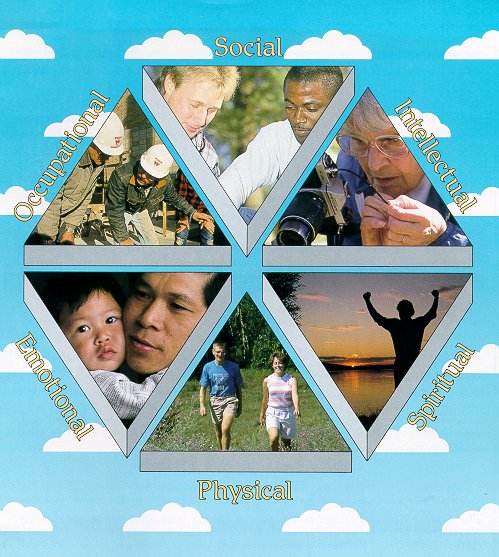 Bill and his daughter Joeli
Present Grand Rounds at RGH

Click HERE for content.
Bill has been providing wellness/health promotion consultations and presentations since 1972. Bill is one of the Co-Founders of the National Wellness Institute, Inc. Bill served as President of the Board of Directors. Bill is probably best known as one of the creators of the National Wellness Conference. This week long conference has influenced the lives of thousands people over the last 20+ years. The hexagon presented above is a schematic representation of the six dimensional wellness model Bill created in 1976.

Bill has encouraged people to pursue balanced allocation of time and energy among these six dimensions. The wellness definition that Bill has used since the early 70's is: "Wellness is an active process through which people become aware of, and make choices toward a more successful existence." A successful existence includes finding the "Meaning of Life."

You can reach Bill at:

Bill enjoys teaching and presenting. Bill and his colleague John Munson team taught the Healthy American class for over ten years at the University of Wisconsin-Stevens Point. This course drew 700-800 students each semester. Bill has developed a web version of the course. Bill is willing to offer this class to any campus that has the technology assets required for student participation.
Over the past 25 years Bill has created or assisted with the creation of numerous assessment tools. The first edition of the Lifestyle Assessment Questionnaire (LAQ) was written by Bill in 1976. In addition, Bill, his wife Carol, and his brother Bob have created a large number of health promotion computer assessments. Some of the most popular:

LifeScan TM Health Risk Appraisal

LiveWell TM Wellness Appraisal

Stress Assess TM, a stress management tool.

Bill and his wife Carol were early advocates of Medical Self Care. Carol and Bill constructed Carol's design for the first version of the F.I.T. STOP in 1978. Unfortunately, the first version required 6 fit people to move the self testing unit to new locations. Later, Bill and Carol were asked to assist Good Morning America in a week long series on "wellness". A new, light weight version was created. This version can actually be moved around by one person. For information about the F.I.T. STOP, contact Bill at:
In the 1980's and 1990's Bill served as a special advisor to the YMCA of the USA, and the Presidents Council on Physical Fitness and Sports. Bill has had a long history of working with children, (He has 6 of his own). Bill assisted the Frost Valley YMCA to create a comprehensive wellness program.
Bill was selected as a 1987 Honorie of the Healthy American Fitness Leader award program. He later became the president of the National Fitness Leaders Association (NFLA). The NFLA is the association of all previous award winners.
Bill has keynoted just about every wellness and health promotion conference in the United States. Bill and his wife Carol have also presented in Europe and Australia.

For a full list of topics contact Bill at:

Bill has been one of the American Leaders of the Wellness Movement. Here is an early shot of Bill with Don Ardell, Jack (Formerly known as John) Travis and the late Robert F.Allen.